---
*A version of this article appeared in the April 2019 issue of America in WWII Magazine.  
The Importance of Mail
After fighting for weeks with the 8th Infantry Division in Brittany, Second Lieutenant Paul Boesch's unit enjoyed a much-delayed mail call. Having only recently joined his division as a replacement, and believing that his mail had not caught up with him, Boesch was surprised when a Sergeant thrust a handful of letters into his tent. Boesch recalled how he "opened the treasured letters eagerly, my hands almost trembling, and drank in every word. . . It was such a happy experience, this hearing from home . . . Now nothing could be too tough to take!" [1]
Beloved Stars and Stripes cartoonist Bill Mauldin observed that "[a] soldier's life revolves around his mail."[2] The arrival of packages and letters, especially to troops serving overseas, had an incalculable effect on morale.  An observer to the first mail call in two months for troops in Gafsa, Tunisia described in an official report that "[o]nly a war dance would have compared with the demonstration that followed the distribution at that mail!" [3] An officer in the 28th Infantry Division perhaps best summed up the feelings of the average GI, "Mail from home means a hell of a lot to the boys. They dream of letters from their loved ones." [4] Infantryman Bennett Palmer in the 36th Infantry Division believed that for him and his entire rifle company, mail was their "lifeline to sanity."[5]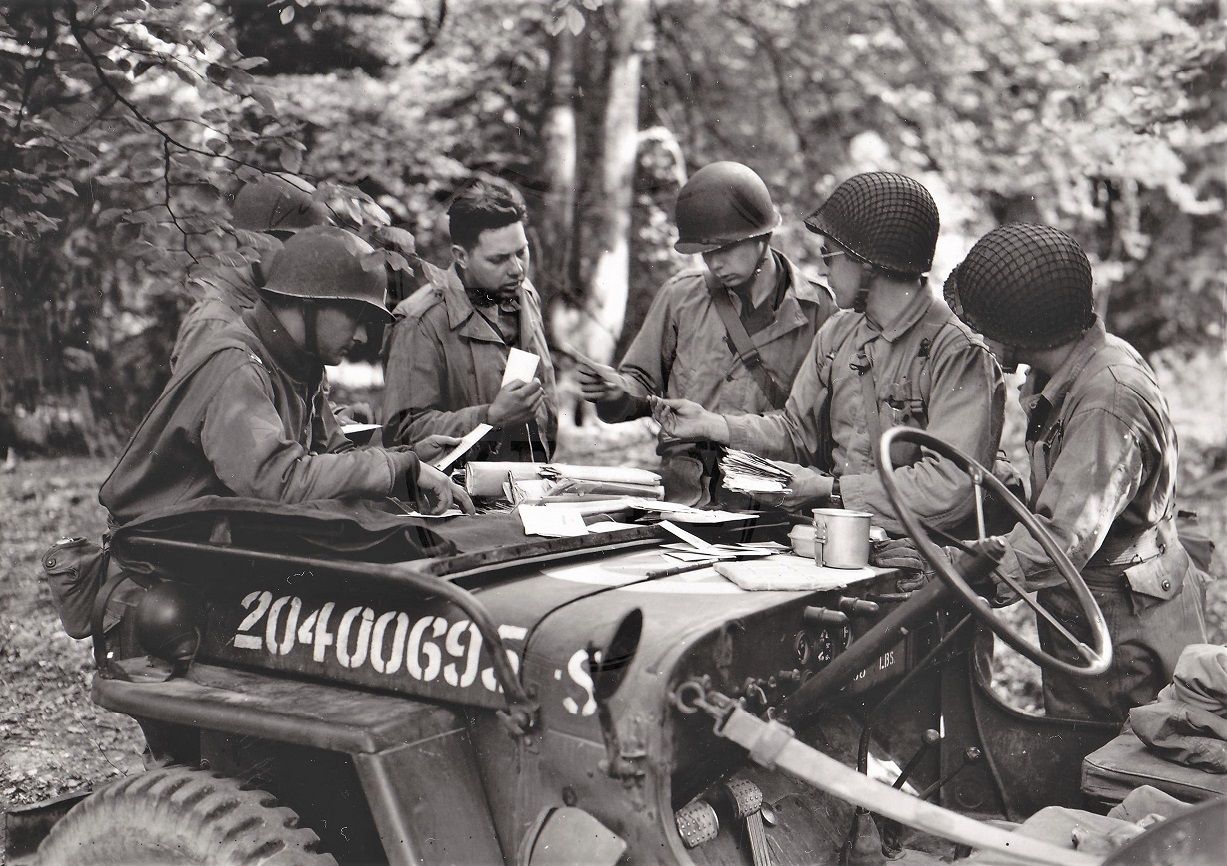 Rifleman Homer Wagnon Jr. remembered that receiving a package from home and seeing "the new labels, the bright colors, even the smell, the American stuff straight from Main Street in our hometown brought back memories almost lost to us" and that he and his buddies would "settle back in our foxholes, in a time of quiet solitude, and try to remember our homes, our streets, our parents, our sisters and brothers, and our special girlfriends as we tried to forget the present situation." [6] Infantryman Joe Windham, a rifleman in the 65th Infantry Division recalled that "full range of human emotions" from "object disappointment to the pinnacle of glee" were on display at his rifle company's mail call. He describes how "up front would be the men that their wives or girlfriends wrote them everyday" and "the ones that receive pictures of their new born baby, that they have never seen. They want everyone to look at it and you feed their ego by telling them that it looks exactly like him and he smiles." Then there were the ones waiting in vain for their names to be called, Windham called them "neck stretchers" because they "stood in the crowd stretching their necks, listening for their names to be called, because someone back home promised them they would write everyday. After mail call they would walk by the mail clerk and ask them if that was all, sometimes even picking up the mail bag and looking inside to makes sure their letter was not overlooked."[7] While receiving mail could raise a soldier's morale to the loftiest heights, not receiving mail could be crushing. After a week of intense combat in the Battle of Bulge, 84th Infantry Division soldier Morris Dunn, who had joined the unit as a replacement recalled that while the "old boys" got letters, none of the replacements received any mail, and he confessed that effect was that "[m]y morale couldn't have gotten any worse; I hit bottom that day.'"[8]
Free Franking, Victory Mail, and Air Mail
During the Second World War, American service members could send and receive letters through a number of methods. On March 27, 1942, Congress enacted legislation that allowed all members of the armed forces, regardless of their station, to send their letters by first-class mail without charge by "free franking" them. "Free franking" was accomplished by simply writing "FREE" in the upper right hand corner of an envelope, in lieu of a stamp. During the First World War this privilege had only been afforded to servicemen serving in the Allied Expeditionary Force.[9] The adoption of free franking for all members of the armed forces had an immeasurable impact on the amount of mail sent during the war. By 1944 the Post Office estimated that each service member was sending approximately six pieces of free mail per week, and that had regular rates been charged the Postal Service would have received an additional One Hundred Million dollars in postage revenue per year.[10]
In an effort to save shipping space for vital war materiel, and to expedite the delivery of mail sent to and by troops overseas, the Post Office, War Department, and Department of the Navy cooperated to develop and institute "Victory Mail" or as it more commonly known, "V-Mail". V-Mail was a process by which letters written on a special 8 ½ by 11 inch stationery were microfilmed and printed in a reduced size before delivery.[11]  The Post Office was already in the advanced planning stages for offering a microfilming dispatch service before the attack on Pearl Harbor, and was able to unveil the V-Mail service by June 15, 1942.[12]  By 1945, the three V-Mail microfilming stations located in New York, San Francisco, and Chicago, could reproduce approximately 100,000 letters a day.[13]  The V-Mail process reduced the weight of the letters microfilmed to only 3.15% of their original volume and weight. For illustrative purposes, a C-54 cargo plane could carry approximately 264,000 full size letters or over 36 million V-Mails.[14]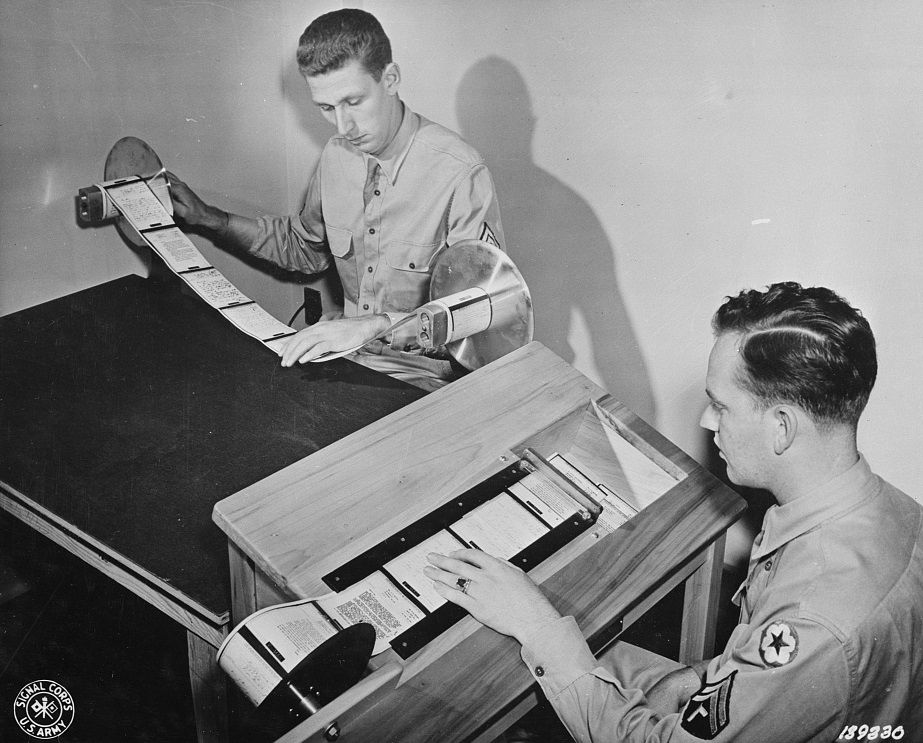 Despite its virtues, including that it was free for members of the armed forces, some soldiers were reluctant to use V-Mail. The primary reason was that while delivery times could be erratic regardless of the mailing method, air mail was generally much faster than V-Mail. As Tom Bourne, a rifleman in the 100th Infantry Division recalled, soldiers had to use air mail "if we expected the recipients to get to see [our mail] before the war was over."[15] Another soldier in that division, William Taylor simply preferred air mail even when V-Mail arrived in roughly the same time, but in January 1945 when air mail was routinely reaching him much faster than V-Mail he wrote his parents "T'hell with V-Mail. I more or less have to use it out here, but if they can't do better than that there is no reason why you should use the stuff."[16] Another 100th Infantry Division soldier, Raymond Bumgarner, agreed with Taylor's sentiments and told his parents that "I shall only use V-mail when I ain't go t'other."[17]  Keith Winston, who served in a medical unit of the 100th Infantry Division and sent hundreds of letters to his wife in suburban Philadelphia, Pennsylvania reminded her in March 1945 to "continue with airmail, by all means, despite government propaganda to the contrary."[18]  Even the Post Office acknowledged that although V-Mail accomplished great savings in air cargo space it was, "was not always as practical as had been anticipated", often arrived later than air mail, and that servicemen felt that the photographic reproductions of letters were impersonal.[19]  82nd Airborne Division paratrooper James Megellas believed V-Mail was "poor substitute for a long letter from home."[20]  Charles DiPietro of the 83rd Infantry Division perhaps typified the feelings of many soldiers when he mentioned in a letter to his mother, "I don't like [V-Mail]. It doesn't seem like a letter and I don't like to receive V-mail so don't use it. It isn't much faster anyway."[21] Nevertheless, the Post Office estimated that over a billion V-Mail letters were sent between June 15, 1942 and November 1, 1945.[22]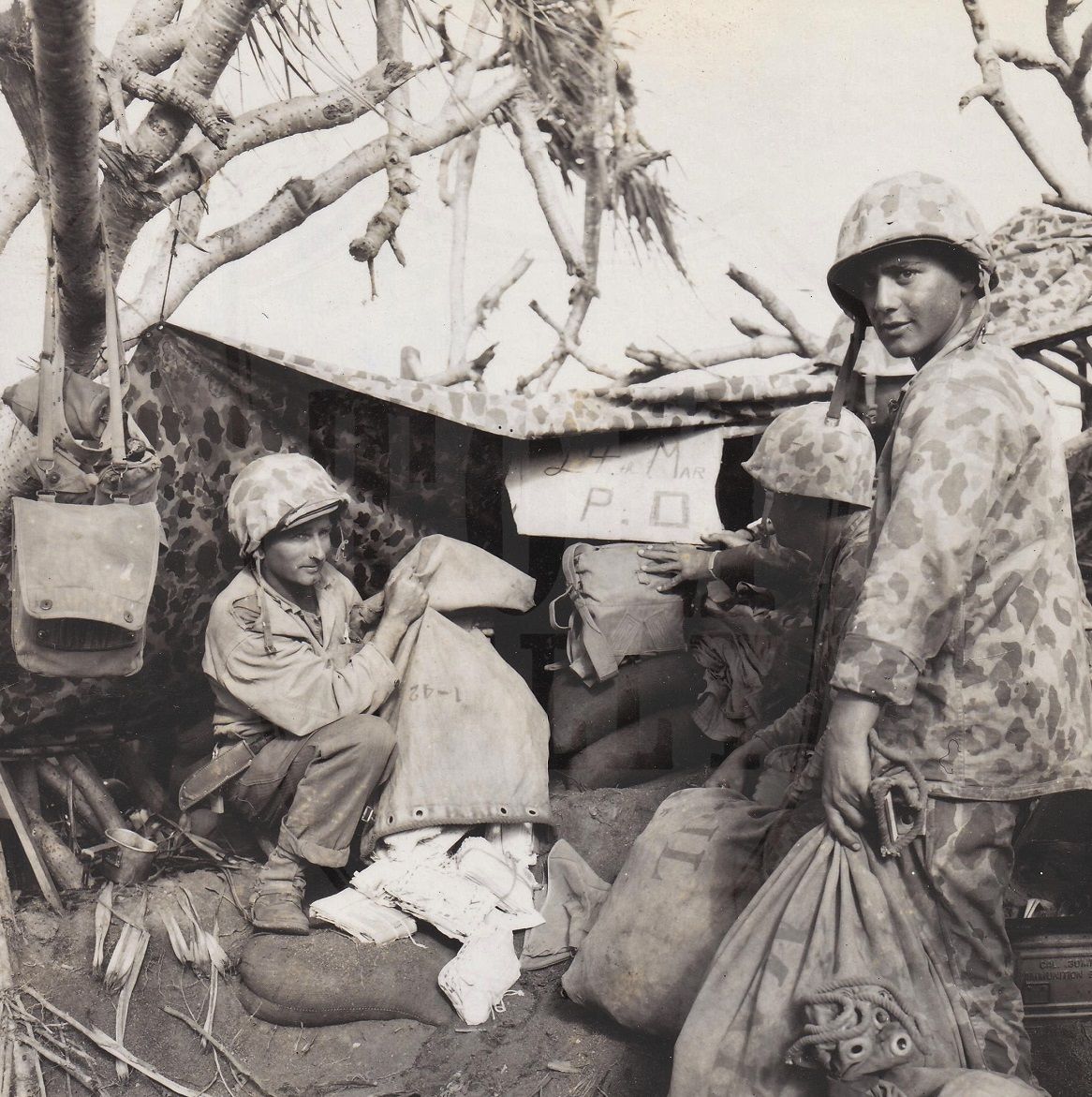 While V-Mail is perhaps the most iconic method of mailing associated with Americans during the Second World War, it appears that air mail was perhaps the most often used by troops overseas. Because mail was the only means of communication for the majority of servicemen, it is hardly surprising that troops separated from their friends and families by thousands of miles were willing to pay a premium so that their letters would arrive as soon as possible.  In contrast to free franking and V-Mail, air mail was not provided gratis to members of the armed forces, however, weeks after the attack on Pearl Harbor the Postal Service adopted a flat $.06 per half ounce rate for all mail emanating from or intended for servicemen outside of the continental United States. This fee reduction not only increased morale, but also was a financial boon to the U.S. Postal Service.  Air mail became so popular that in November 1943 post office employees were advised to restrict requisitions for air mail envelopes for civilians, and less than a year later on July 25, 1944, were informed that the entire production of embossed $.06 air mail envelopes, approximately 40 million a month, was being allotted for the Armed Forces. [23]  In a further effort to increase production, the signature red, white, and blue border was removed in the late summer of 1944. [24]  Despite these efforts, and sending over 861 million of these envelopes overseas after July 25, 1944, in March 1945 the Postal Service had to supply 2 cent envelopes, in some cases even commemorative envelopes from the early 1930s over stamped with the words "6 c Air Mail", in order to satisfy military demands. [25]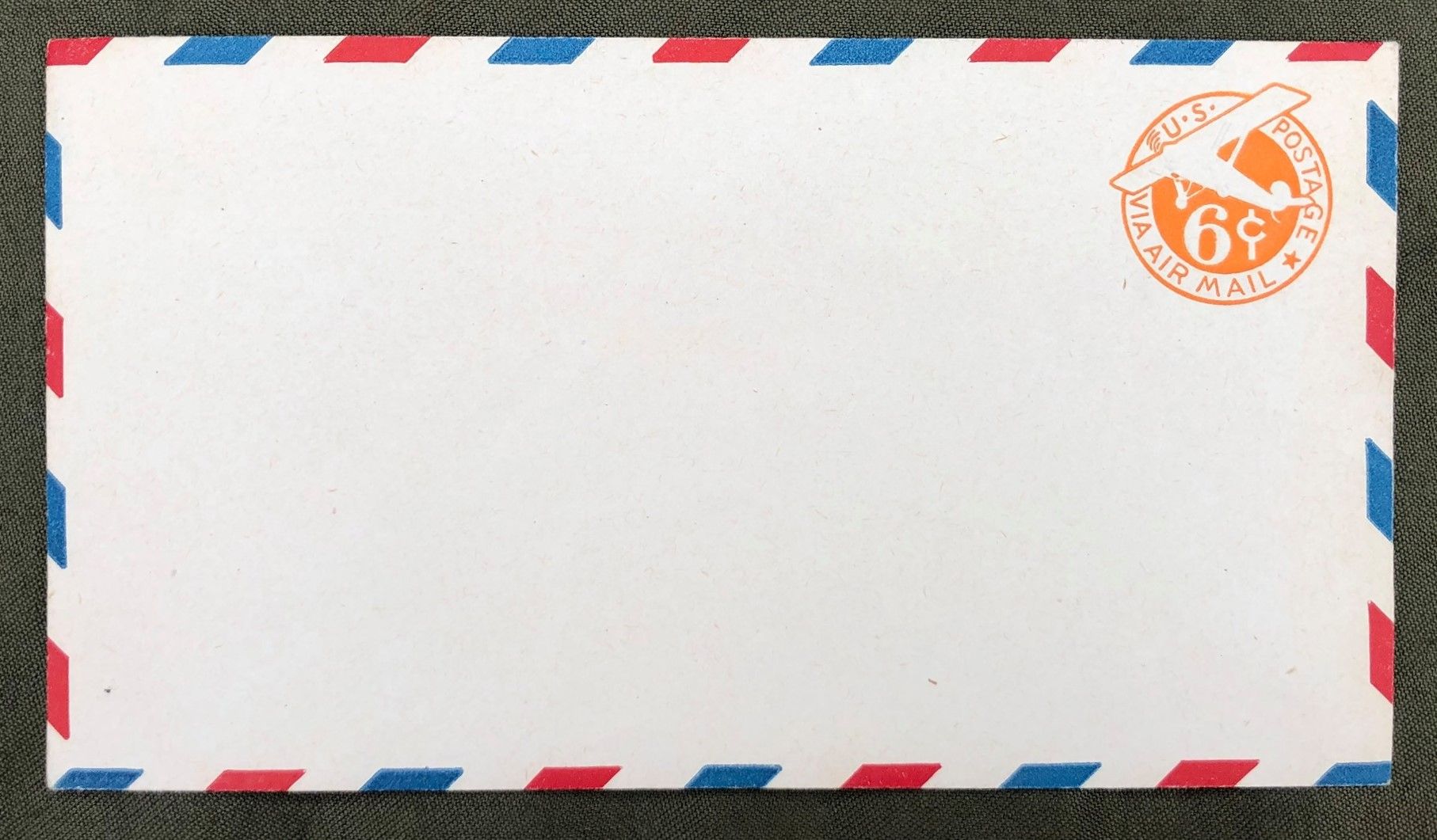 While it is impossible to definitively say how much more popular air mail was than V-Mail in all units and areas, the Mediterranean Theater of Operations Chief Postal Officer reported that in 1944 soldiers in that Theater had sent 72,875,077 V-Mails, but over twice as many, 164,746,950, letters by air mail. [26]   Trailing even behind V-Mail letters were those sent by "free franking", with only 36,390,000 letters sent as free surface mail. [27]
Packages
More than letters, packages were especially welcomed and requested by troops in combat areas. During World War II the Postal Service's regulations relating to the mailing of packages to soldiers overseas evolved considerably.
On January 8, 1943, because of military demands on shipping space, the Postal Service announced that "No parcels shall be accepted for dispatch to A.P.O.'s (Army Post Office) outside the continental United States unless they contain such articles only as are being sent at the specific written request of the addressee, approved by the battalion or similar unit commander of the address." [28] The policy was slightly amended in March 1943 to allow small parcels usually for items like eye glasses, fountain pens, and watches not exceeding 8 ounces, could be mailed via first class without written requests from the addressee. [29] The requirement that a soldier's commander approve each written request was onerous and met with severe criticism. YANK, the Army's weekly magazine devoted a full page in its April 9, 1943 issue to criticism against the Postal Service's policies affecting A.P.O.s including the requirement that soldiers have their package requests approved by their commanding officers. [30]  A month later, the requirement that package requests be approved by a soldier's commanding officer was rescinded by the Postal Service, however, the individual mailing a package was required to present the recipient-soldier's written request and the envelope it was mailed in to a postal employee so that they could be marked to prevent reuse. [31]  While some soldiers included requests in almost every letter they mailed home, others were not as diligent.  Richard Berkey who was serving in the 14th Armored Division in Europe as a medic was pestered by his father to "send a request in each letter and we will get it to you. You have to make a request each time we send anything, so each time make a separate request. We have to show it and have it stamped at the post office." [32]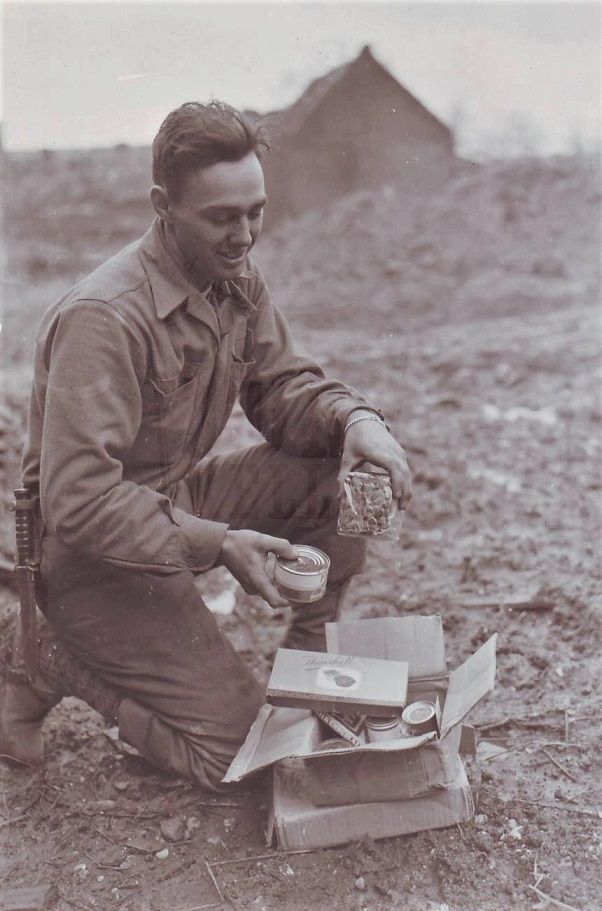 A major exception to this policy was for Christmas and Hanukkah packages. During the prescribed period for mailing holiday packages to Army troops, between September 15 and October 15 in 1943 and 1944, civilians rushed to post offices to mail tons of packages to soldiers overseas.[33]  During the 1943 holiday season, over 20 million parcels were mailed to servicemen, and the following year the total was between 82 million and 85 million, with over 61 million dispatched to Army personnel alone.[34]  To handle the incredible volume of packages the Army constructed additional buildings at the New York and San Francisco ports of embarkation, the two principle distribution points for overseas mail to A.P.O.s.[35]
Because holiday packages were not sent in response to specific requests, soldiers were often surprised with unexpected and unwanted gifts from their loved ones. Frank Graham, serving in the 34th Infantry Division in Tunisia recalled that when a Christmas package from his Aunt finally reached him in March 1943, the package was "very welcome except it contained only twelve rolls of Life Savers, the same thing came in the C ration cans."[36] Writing from Italy in 1943 Ernie Pyle explained to this readers that "nearly every soldier's package had in it at least one ironic item" and that some soldiers "actually got cans of Spam. Others got fancy straw house slippers, and some got black silk socks—as though the boys were likely to put on full dress and spend an evening in a night club."[37] When Dale Noble, fighting with the 100th Infantry Division in northeastern France received "a fine pair of bedroom slippers" from his wife, he filled them with Alsatian mud and mailed them back.[38]  Bedroom slippers appear to have been a popular gift for servicemen in 1944, another 100th Infantry Division soldier received five pairs, each sent in different boxes, in a single day.[39]  Robert K. Adair, a rifleman in the 94th Infantry Division wrote to his parents in December 1944 that "I wonder just why everyone sends soap, shaving cream, etc. we get so much from the government that we can't use it all. At present I have enough shaving cream (about 5 tubes) and enough soap (about ten bars) to last me through the war. Everybody seems to be a victim of this. When someone gets a package everyone gathers around and watches him open it. Then we howl as they drag out soap, shaving cream, shoeshine kits, bathing suits, and God knows what else." [40] When packages containing food arrived the edibles were often distributed among the soldier's buddies. Writing to his parents in January 1945, Theodore Strong, a rifleman in the 84th Infantry Division confided that because none of his Christmas packages had arrived, "I feel a bit ashamed at present 'cause I've been eating food from all the other fellows['] boxes, and as yet have been unable to give them anything in return" and that "the food in those boxes sure hits the spot as a snack before you go on guard or as a supplement to a K-ration . . ." [41]
A survey of letters sent by thirteen soldiers in the 100th Infantry Division provides insight on the wants and needs to the average infantryman (for more on the survey, click here). Every soldier in the survey requested that food items be sent to them, overall almost three quarters of all the requests were for various foodstuffs, from cans of evaporated milk to candy bars. Most soldiers appear to have shared the sentiments of Beauford K. George, Jr., a rifleman in K Company, 399th Infantry Regiment, who told his parents "we can only keep what we carry - up to the last crumb" and Franklin Gurley, who served in the same regiment, was disappointed by a package that contained handkerchiefs and shoe laces because "there was simply no way we could eat those handkerchiefs and shoe laces. I told the boys how sorry I was that there was no food in the package." [42]  The desire for food items from home was universal. A veteran of the 10th Mountain Division recalled that the constant inclusions of food requests in letters was not purely a matter of hunger, but because every soldier "cherished the packaged from home-particularly when he had been subjected for too many days to the theoretically balanced diet of straight C-ration or, worse, straight K [rations]." [43]  When received, those cherished packages were not squandered. After not receiving mail for over six months due to several hospitalizations, Russel Albrecht a soldier in the 30th Infantry Division, received a Christmas package containing fudge that was "so moldy you couldn't tell it was fudge". Undeterred, he and his buddies devoured every single piece. [44]
The next most requested items, appearing in almost equal amounts the survey sample, were writing supplies such as envelopes, stamps, stationery, and even small bottles of ink, and candles which served as the infantryman's main source of light and heat. Entering combat in November 1944 and fighting continuously through the winter of 1945, soldiers in the 100th Infantry Division surveyed also made a number of requests for clothing items, such as socks, scarves, and gloves.  In late November 1944, Private Thomas B. Harper III, in fighting with the 100th Infantry Division in the Vosges mountains wrote to his parents and included a detailed list of requests that was likely typical for many infantrymen, "Please send me chocolate bars, jam, cake (fruit[cake] keeps, yours should too), pastry, nuts, saltines, canned fruit, canned food (pork & beans- sardines, etc.), socks (heavy wool), hankies, stationery & air mail envelopes, candy and a scarf. . ." Perhaps Harper's list was more comprehensive than most because as explains in the same letter "I haven't received any packages yet and I'm anxious like mad!" [45] Some of the more interesting requests revealed in the survey were a "bingo game" and "vitamin tablets", and the most interesting item received was a "six pack of Cola-Cola". [46]
Mailing Alcohol to Soldiers Overseas
While the mailing of alcohol was strictly prohibited by Post Office regulations , nonetheless, the folks at home risked fines or imprisonment by attempting to send bottles of spirits overseas.[47]  While it is unclear how many of these illicit parcels were confiscated and destroyed by Post Office employees, Ernie Pyle believed that meanest trick he ever saw played on a soldier involved the mailing of several bottles of whiskey. Pyle recalled that "[t]he first bottle tasted fine to the cold kids at the front, but when the second and third ones came the boys found they had been opened and drained along the way, then carefully resealed and continued on their journey. Of course, mailing them in the first place was illegal, but that's beside the point. The point is that somewhere in the world there is a louse of a man with two quarts of whisky inside him who should have his neck wrung off." [48]  In order to avoid detection, bottles of alcohol were disguised as benign items. When a soldier in the 2nd Infantry Division received a Christmas fruitcake so hard it was inedible he cursed and threw it against a wall in disgust. As the cake hit the wall there was a sound of breaking glass and when he examined the remnants he found a Jack Daniel's label, a witness recalled that "real tears came to his eyes as he saw his pint of Christmas bourbon soak slowly into the flooring." [49]  Sometimes these ruses were successful. 99th Infantry Division soldier Robert Kreuger received a fifth of whiskey that had been shipped in a square tin with popcorn for packing. Although the bottle arrived broken, the popcorn had soaked up the alcohol. Krueger and his buddies sucked on the popcorn and "didn't waste any!" [50]
Conclusion
For troops overseas a letter or package from home was more than just a way to stay in contact with their loved ones or break up the monotony of Army rations. They were poignant reminders of the lives they lived before entering the service, and that they hoped to return to after the war.
---
Footnotes
[1] Paul Boesch, Road to Huertgen: Forest in Hell (CreateSpace Independent Publishing Platform, 2014), 44.
[2] Bill Mauldin, Up Front (New York, NY: Henry Holt and Company, 1945), 24.
[3] Headquarters Army Ground Forces, "Observer Report, Observations in the United Kingdom and North Africa." (March 17, 1943), 3. Accessed October 22, 2019, http://cgsc.contentdm.oclc.org/cdm/ref/collection/p4013coll8/id/3418
[4] Igor Cassini, "Soldier's Mail...It DOES Get Through." The Stars and Stripes Warweek (London), December 30, 1944. P. iv.
[5] Bennett J. Palmer, Sr, The Hunter and the Hunted: A Combat Soldiers Story (Holland, NY: Self Published, 2002), 55.
[6] Homer Vaughn Wagnon, Foxhole Memoirs A to Z (Raleigh, NC: Lulu.com, 2013), 108.
[7] Joe Windham, Fragmentation: The Memories of the 3rd Platoon of I Company 260th Regiment 65th Infantry Division (Prospect, CT: Biographical Publishing Company, 2005), 52.
[8] Harold P. Leinbaugh and John D. Campbell, The Men of Company K: The Autobiography of a World War II Rifle Company (New York, NY: William Morrow &, 1985), 170.
[9] Lawrence Sherman, The United States Post Office in World War II: The U.S. Governments Classic A Wartime History of the Post Office Department in a New Illustrated Edition with Modern Commentaries (Chicago: Collectors Club of Chicago, 2002), 110-111.
[10] Postmaster General, J.M. Donaldson, comp. A Wartime History of the Post Office Department, World War II 1939-1945 (Washington, D.C.: U.S. Government Historical Reports on War Administration, 1951), 77.
[11] Ibid., 89.
[12] Ibid., 88.
[13] Sgt. Jack Foisie, "C/O Postmaster, New York, N.Y." The Stars and Stripes (Mediterranean Edition), January 28, 1945, 9-10.
[14] Ibid.
[15] Tom Bourne Jr., George and Me: The Saga of an Infantryman in World War II and The Company With Whom He Fought. (Np: Np), 38. Accessed October 22, 2019, https://www.marshallfoundation.org/100th-infantry/individual-stories/george/
[16] Greg Taylor, "The World War II Letters of William Wellington Taylor, Jr." Letter 170- January 10, 1945. December 21, 2009. Accessed August 20, 2018, https://taylorletters.blogspot.com/2009/12/letter-170-january-10-1945.html
[17] Carol B. King, "Raymond A. Bumgarner - Military Memories - WWII: Pfc. Raymond A. Bumgarner SN 38 578 538 HQ Co, 2nd BN, 397th Infantry, 100th Division." Accessed March 27, 2017. http://bumgarnergray.com/raymond_bumgarner_WWII_memories_SepToDec1944.htm
[18] Keith Winston and Sarah Winston. V-mail: Letters of a World War II Combat Medic (Chapel Hill, NC: Algonquin Books of Chapel Hill, 1985), 185. The Army certainly did try to induce soldiers to use V-Mail, without success. A May 1945 report from the 100th Infantry Division Headquarters states that, "Despite the campaign to induce wider use of V-mail, air mail is still more popular with personnel throughout the division." Headquarters 100th Infantry Division, Office of the Adjutant General. Staff Section Report May 4, 1945. U.S. National Archives, RG 407, Entry 427, 3100-0.2., 3.
[19] Donaldson, A Wartime History of the Post Office Department, 93-94.
[20] James Megellas, All the Way to Berlin (New York, NY: Random House, 2003), 24.
[21] Francis DiPietro, comp., Veteran of the Ardennes: The World War II Letters Home of PFC Francis Charles DiPietro (Lincoln, NE: iUniverse, Inc. 2006), 61.
[22] Historian United States Postal Service. "V-Mail." July 2008. Accessed August 21, 2018. http://about.usps.com/who-we-are/postal-history/v-mail.pdf
[23] "Washington OP." YANK The Army Weekly, July 28, 1944, 17. Accessed October 22, 2019, http://www.unz.org/Pub/Yank-1944jul28-00017?View=Overview; "Air Mail Stamped Envelope-Requisitions to be Restricted." The Postal Bulletin LXIV, No. 18671 (November 30, 1943): 1. Accessed October 22, 2019, http://www.uspostalbulletins.com/PDF/Vol64_Issue18671_19431130.pdf; "Air Mail Envelopes Not Available." The Postal Bulletin LXV, No. 18739 (July 25, 1944): 1. Accessed October 22, 2019, http://www.uspostalbulletins.com/PDF/Vol65_Issue18739_19440725.pdf
[24] "Washington OP", 17.
[25] Donaldson, A Wartime History of the Post Office Department, 26-27. One example of a commemorative envelope utilized in this way is referred to by collectors as "UC9".
[26] Foisie, "C/O Postmaster, New York, N.Y.", 9.
[27] Analysis and Control Section Office C/S MTOUSA. Summary of Activities: Mediterranean Theater of Operations, U.S.A. Volume II, Copy No. 38, December 31, 1944, 43.
[28] "Restrictions on Overseas Shipments to Army Personnel." The Postal Bulletin LXIV, No. 18539 (January 8, 1943): 1. Accessed October 22, 2019, http://www.uspostalbulletins.com/PDF/Vol64_Issue18539_19430108.pdf
[29] "Mail for Army Personnel Overseas." The Postal Bulletin LXIV, No. 18566 (March 12, 1943): 1. Accessed October 22, 2019, http://www.uspostalbulletins.com/PDF/Vol64_Issue18566_19430312.pdf. Even this exception was modified on August 11, 1944, to specifically exclude foodstuffs, because the sending of food, especially candy, was so popular that it was a real strain on the Postal Service. "Mail for Army Personnel Overseas." The Postal Bulletin LXV, No. 18744 (August 11, 1944): 1. Accessed October 22, 2019, http://www.uspostalbulletins.com/PDF/Vol65_Issue18744_19440811.pdf
[30] "GIVE SOLDIERS -AND THE APO- A BREAK." YANK: The Army Weekly (April 9, 1943), 11. The Navy and Marines adopted policies restricting the size and weight of packages sent to sailors and marines, however, they did not adopt the Army's policy that packages (excluding the holiday season) be sent only in response to a written request. "Restrictions on Parcels to Personnel of the U.S. Navy, Marine Corps, and Coast Guard Overseas." The Postal Bulletin LXIV, No. 18547 (January 27, 1943): 1. Accessed October 22, 2019, http://www.uspostalbulletins.com/PDF/Vol64_Issue18547_19430127.pdf
[31] Donaldson, A Wartime History of the Post Office Department, 87. As early as September 1942 the Postal Service was straining to keep up with the massive volume of mail, especially parcels, that were being sent to members of the Armed Forces. In early September it announced that no packages, except official packages, would be sent by air from the United States to members of the Armed Forces and that the air mail service was limited to "only letters in their usual and ordinary form weighing not in excess of two ounces," meaning that packages exceeding 8 ounces (which could be sent by first class) were dispatched by parcel post.  "Air-Mail Restrictions." The Postal Bulletin LXIII, No. 18485 (September 4, 1942): 1. Accessed January 27, 2020, http://www.uspostalbulletins.com/PDF/Vol63_Issue18485_19420904.pdf.
[32] Karen Berkey Huntsberger, Waiting for Peace: The Journals & Correspondence of a World War II Medic (Eugene, OR: Luminare Press, 2015), 168. At least one soldier was embarrassed when he read his letters years after the war and realized how hard his mother must have worked to fulfill the requests he included in each of his letters. Milton F. Miller, M.D., Now Count Your Men, Hitler! : Memoirs of an Infantryman, (Louisville, KY: Zorn Avenue Publications, 1996), 84.
[33] The 1942 Christmas season for Army personnel abroad was October 1, 1942 to November 1, 1942 and the 1943 Christmas mailing period was September 15, 1943 to October 15, 1943. "Christmas Mail for Members of the Armed Forces Abroad." The Postal Bulletin LXIII, No. 18478 (August 19, 1942): 1. Accessed October 22, 2019, http://www.uspostalbulletins.com/PDF/Vol63_Issue18478_19420819.pdf; "Christmas Mail for Members of the Armed Forces Overseas." The Postal Bulletin LXIV, No. 18613 (August 19, 1942): 4.  Accessed October 22, 2019, http://www.uspostalbulletins.com/PDF/Vol64_Issue18613_19430628.pdf
[34] "Record Christmas Awaiting GI's Overseas; Last of 85,000,000 Packages Ready to Ship." New York Times (New York), November 19, 1944, Late City Edition ed., sec. L., 30.
[35] Donaldson, A Wartime History of the Post Office Department, 87, 100.
[36] Jack D. Graham, The White Mule (New York, NY: Page Publishing, 2016), 114.
[37] Ernie Pyle, Brave Men (New York: Henry Holt and Company, 1944), 86.
[38] B. Lowry Bowman, and Paul F. Mosher, Company I WWII Combat History: October 1944 through April 1945. (Carrollton, Texas: N.p., 1997), 44.
[39] "GI Grapevine." The Century Sentinel, January 27, 1945, Vol. II No. 69, 2. Further evidence of the popularity of bedroom slippers as Christmas gifts appears in the memoir of a 3rd Infantry Division soldier who recalls that while his unit was fighting in the Vosges mountains a man received a pair of slippers from his wife, and that "[h]e tried them on; found they fitted; and cast them into the bushes." Earl Reitan, Riflemen: On the Cutting Edge of World War II (Bennington, VT: Merriam Press, 2001), 64.
[40] Robert K. Adair, Letters Home from the Second Platoon, I Company, 376th Infantry, WW II, Europe (Hamden, CT: N.p., 1993), 123.
[41] Theodore K. Strong, Strong: 19132507: The Military Memoirs of Theodore K. Strong, December 10, 1942 – February 4, 1946. (N.p.: N.p.), 27.
[42] World War II, Letters, 1940-1946, C68, George, Beauford J., Jr., Letters, 1944-1946. December 20, 1944 Letter. State Historical Society of Missouri, Manuscript Collection; Franklin L. Gurley,  Into the Mountains Dark: A WWII Odyssey from Harvard Crimson to Infantry Blue (Bedford, PA: Aberjona Press, 2000), 149.
[43] William Shinji Tsuchida, Wear It Proudly: Letters by William Shinji Tsuchida (Berkeley: Univ. of California Press, 1947), 39.
[44] Faye Berger and Russel E. Albrecht, Finding Foxholes: A World War II Infantry Route, Then ... and 48 Years Later (St. Cloud, MN: North Star Press of St. Cloud, 2014), 134.
[45] Thomas B. Harper III, letter dated November 24, 1944. Author's collection, 2.
[46] Winston, V-Mail, 176; Taylor, Letters, January 10, 1945; Joseph Farris, A Soldier's Sketchbook: From the Frontlines of World War II (Washington, D.C.: National Geographic Society, 2011), 91.
[47] Foisie, "C/O Postmaster, New York, N.Y.", 9.
[48] Pyle, Brave Men, 87.
[49] Chester H. Jordan, Bull Sessions World War II: Company K, 47th Inf., 9th Div. from Normandy to Remagen (N.p.: N.p., 1991), 23.
[50] Thor Ronningen, Butler's Battlin' Blue Bastards (Lawrenceville, VA: Brunswick Publishing Corp., 1993), 71.