---
The Controvich Library
Finding memoirs written by veterans of particular units, even when searching at division-level and using creative keyword strings on web browsers, Amazon, eBay, or used book search engines, can be exhausting and fruitless. Few postwar veteran associations maintain complete lists of all books written by their members, and unless a product description includes details of the author's military service there is rarely an ability to identify particular sources a researcher may be looking for, especially if the books were not published in the last two decades.
Recently, while searching for memoirs written by veterans of the 29th and 45th Infantry Divisions I stumbled upon the Controvich Library, a searchable database of a collection of military histories that identifies the unit of each author and sometimes a link directly to the Amazon product page for the book. While by no means complete, this database has helped me find dozens of obscure memoirs that I would likely never have found by keyword searching.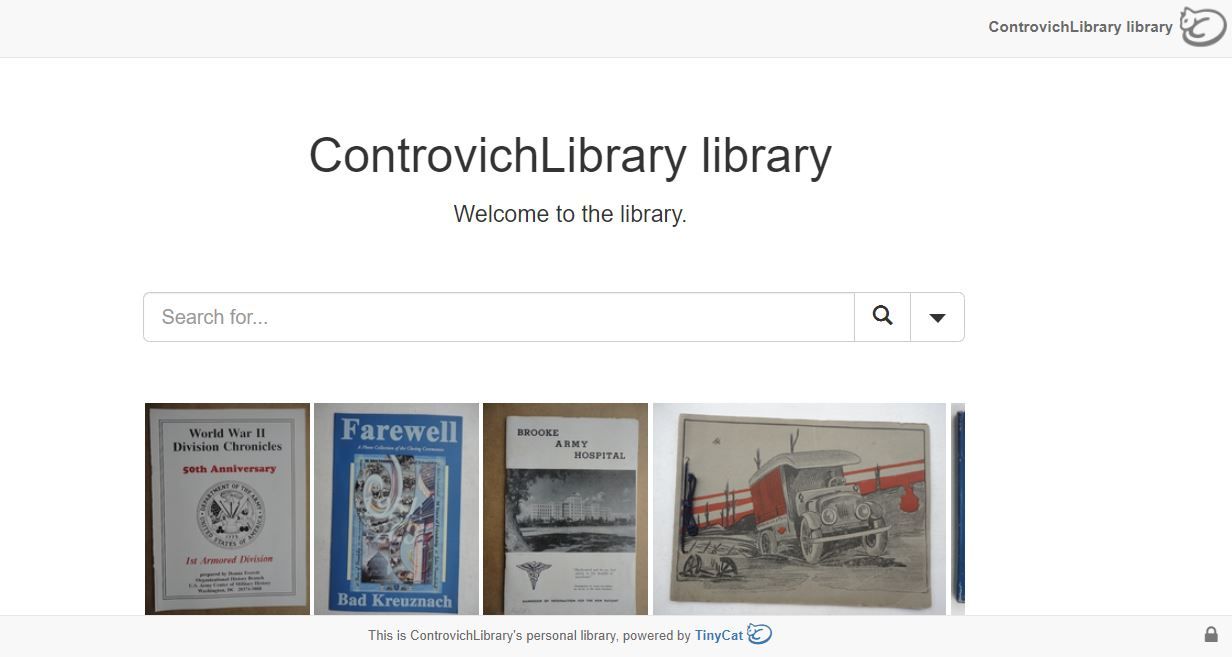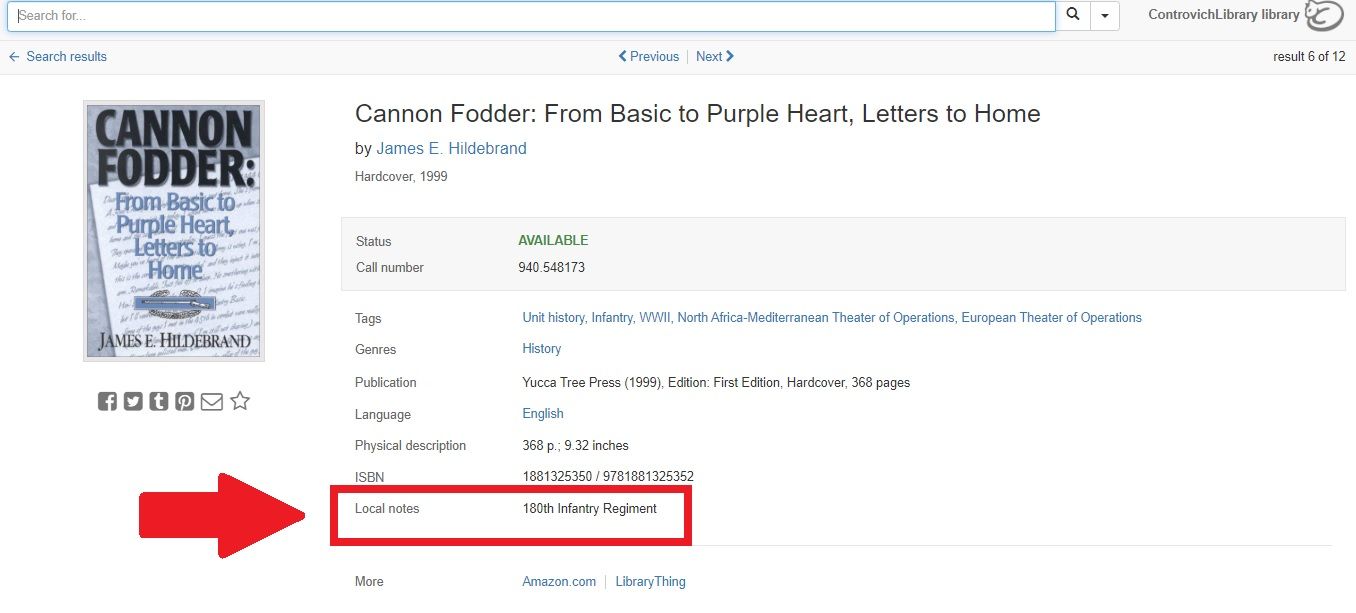 Who is Jim Controvich?
Impressed by the number of titles found in the Controvich Library holdings, I reached out to the library to learn more about it.
The Controvich Library is the private collection of Jim Controvich, a retired city and emergency planner with a background in data management. The son of a soldier, Jim grew up on Army posts collecting insignia, baseball cards, and coins, but in college he began collecting military histories, first focusing on Naval histories but eventually gravitating towards histories of Army units in the Pacific and European Theaters of Operations. By 1974 he was well on his way to creating his collection, which continues to grow as Jim works towards his goal of collecting at least one copy of every World War II published unit history. Currently, his collection contains approximately 20,300 books.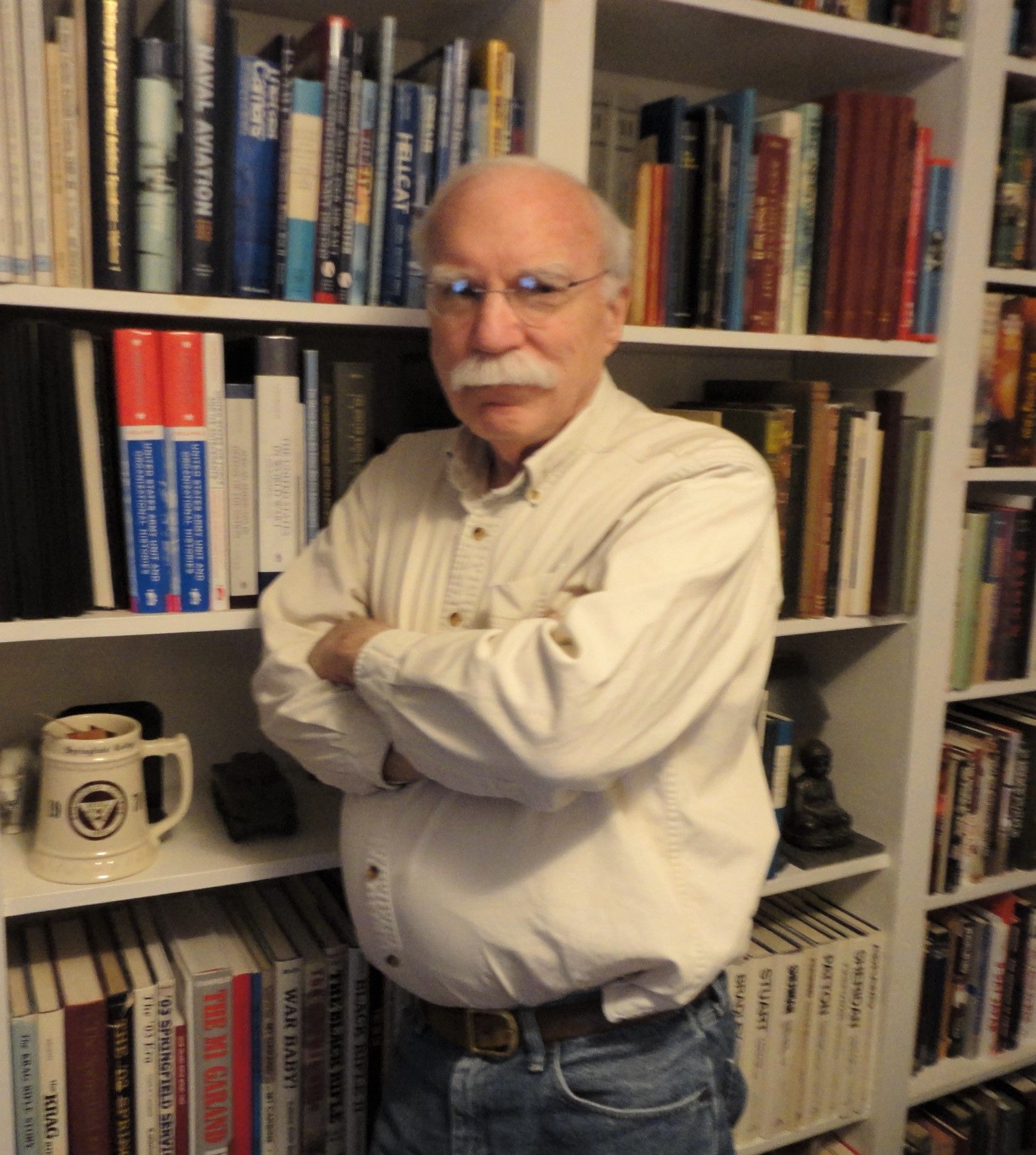 Jim is the author-compiler of several bibliographies concerning the United States Army and Air Force, World War I, African-Americans in the defense of the United States, the World War II Central Pacific Campaign, and numerous specially produced bibliographies. He also recently compiled bibliographies of World War I and World War II Army ground unit memoirs and histories, the World War II bibliography is available here.  He is currently working on similar bibliographies for units that served in Korea, Vietnam, and Iraq-Afghanistan.  These bibliographies are substantially more comprehensive than his personal library holdings posted online, and they are updated on almost daily basis. In addition to his online library, Jim also maintains a database of all known published and printed Army unit histories from the Colonial era to the present day.  The pre-Spanish American War histories are mostly related to state militias because Federal units were fewer in number.
Jim was kind enough to answer some questions for me, and discuss the purpose behind his database. Excerpts of my interview are below:
Q: What is your favorite book in the collection?
A: "I have to admit I really don't have a favorite book per se. That said, as odd as it may seem, one of my favorite books is Silverstone's U.S. Warships of World War II. I also especially like the campaign volumes of the U.S. Army Official histories of World War II, the so-called 'green books'."
Q: Approximately how many books are in your collection? How many of those are memoirs?
A: "The collection is approximately 21,000 volumes still growing, not including route of battle maps or academic or historic society journals with articles on army units, organizations, or installations.  The memoir holdings comprise approximately 840 volumes, I probably have more as I didn't have 'memoirs' as a subject heading when I first started adding books in the LIBRARYTHING software."
Q: What made you decide to start cataloging your library online?
A: "Two factors.  I thought putting the collection online would better connect me with the current collectors.  It really hasn't happened to any great degree, yet.  The second reason was the LIBRARYTHING software was extremely easy to use, and very inexpensive. The software allows one to categorized ones titles with as many subject as one wants.  I really never had an idea of how many artillery, cavalry, infantry, World War I, World War II books, or memoirs, etc. I had.  LIBRARYTHING makes categorizing them extremely easy and provides a count by subject.  I hope to soon take advantage of its smart phone application which save me from carrying my paper copy of the collection listing."
Q: How often do you update the database?
A: "I maintain my bibliographic database on a daily basis.  It is a comprehensive bibliographic listing of army unit and organization histories from the Colonial era forward.  The period up to the Civil War is primarily state militia units.  Everyday I search various sources using a variety of word or subject searches to look for titles I do not have listed or have in the collection.  The on-demand publishing market has made it extremely easy for veterans or their families to publish.  I also scan a variety of academic and history journals to look for titles.  Many collectors and dealers have also been a big help in sending titles not listed to add to the bibliographies and correcting typos.
My collection listing which is on LIBRARYTHING and in a COREL WORDPERFECT file is updated as I add titles to my library which is every couple of days.  My library is focused for the most part on the post-Civil War army with an assortment of subjects of personal interest."
Q: I find your library database very helpful in finding harder to find books, especially memoirs published in the 1940s-1960s and that have out of print for decades. Did you expect this to be one of the more valuable uses of the database?
A: "I didn't really expect the online library listing to get as much use other than from book collectors.  As it turns out I am constantly getting more requests from individuals for titles that their family members were in.  I also get requests from associations, historians, researchers, and genealogists from time to time looking for specific bibliographic info.  As for memoirs, I made (and still do) an effort to pick them up and to catalog them if I don't manage to get them.  I have to admit I am way behind in picking up the on-demand histories. I like the memoirs as they often provide a much more human narrative of the unit activities.  One also must careful as they for the most part were never vetted for accuracy. I enjoy tracking down info for families and providing listings of titles for specific units."
Q: What would you like researchers to know about your library? Or, how would you like your library database to be used?
A: "Basically I see my bibliographic files and library as a research source for those looking for published information on U.S. Army unit and organizational histories. My bibliographic files can provide a researcher with what has been already written saving a lot of research time.  For researchers interested in a particular unit the best thing to do is to send me an email with the unit(s) and I will forward a listing of titles I am aware of.  For titles I have I can provide information on the contents and scope of the title."
Q: Where do you buy books?
A: "Over the years my buying has shifted. In the early years before the internet brick and mortar stores, gun shows, and book shows. Later on, Manion's Auction was a great source while it lasted.  Currently, eBay, Amazon, ABEBooks are the primary sources I find material. I still really enjoy hunting in brick and mortar stores."
Q: Can researchers and collectors help expand the database?
A: "ABSOLUTELY!!  I encourage anyone with a title unlisted in my database or bibliographies that they think should be in to contact me.  I generally try to obtain the following information for any title I list–
Unit(s) title pertains to;
Author(s) and editor(s), if listed;
Title from title page or cover title if no title page;
Place of publication, if listed;
Publisher or printer, if listed;
Date of publication, if listed; and
Number of pages, if numbered.
I am constantly adding unlisted vintage titles and newly published material into it. Researchers needing an up-to-date listing should contact me."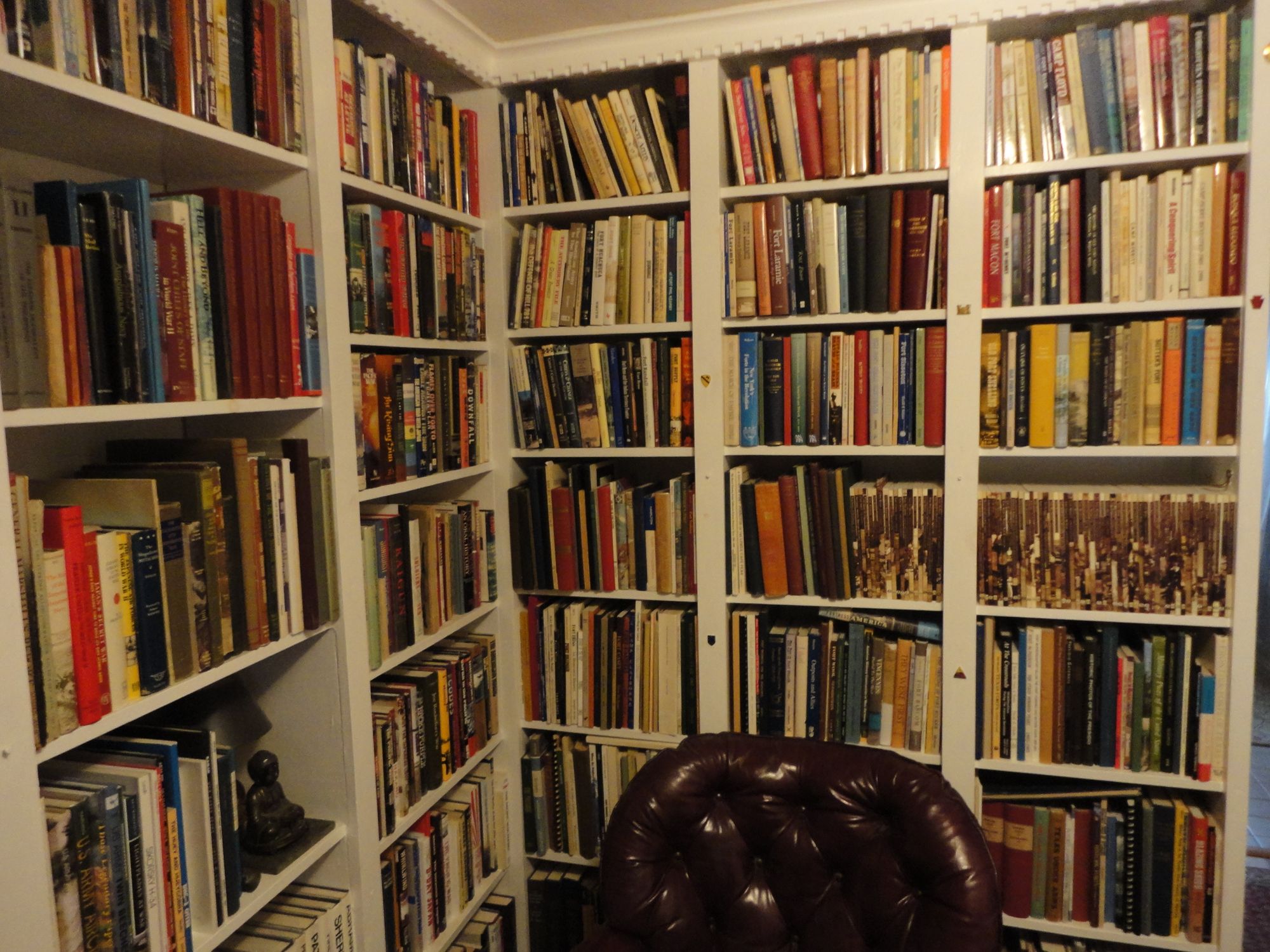 Tips for Researchers
The best way to search for a particular unit on the Controvich Library is to filter by battalion (for field artillery or engineer units, for example) or regiment, in addition to searching by division or parent organization. For example, when searching for 45th Infantry Division memoirs, searching "45th Infantry Division" will identify some works, especially if the author includes keywords like "45th",  "Infantry", or "Division" in their title, but the most effective way to gather all of the relevant entries would be to also search by each regiment (for example, "157th Infantry Regiment", "179th Infantry Regiment", "180th Infantry Regiment" and "45th Infantry Division").
Anyone interested in obtaining a current listing of all titles for a particular unit and conflict can also contact Jim by e-mail. Jim also offers copying services if the book is no longer protected by copyright and copying will not damage it.
However, the primary purpose of the Controvich Library from a research standpoint is to merely identify sources that can be purchased or obtained elsewhere because the website is a database of Jim's personal collection, and not a public or lending library. While certain hard-to-find titles can demand exorbitant prices on Amazon, eBay, or used book websites, you can use the WorldCat library database to see if any libraries in your area have a copy, and if they do not, anyone with a library card can ask their local librarian to source a copy of any title, for free, using the Interlibrary Loan program. If you are unfamiliar with the Interlibrary Loan process, please visit the Library of Congress page here to learn more. It is a fantastic program and one that I use on a monthly basis. In some cases the Library of Congress lends out copies of rare memoirs from its own holdings, and I have also received copies of books from the library of United States Military Academy West Point. While some libraries are unwilling to share certain rarer titles, in many cases, if the work is no longer protected by copyright libraries will make copies for a fee.