---
On December 1, 1944, in Schneckenbusch, France, Private William Taylor of Company A, 399th Infantry Regiment, 100th Infantry Division sent his parents a Christmas Card printed and distributed by his regiment, which Taylor thought was "rather nice." [1]  In his card Taylor enclosed a French 20 franc bill (worth only $.40) and wrote:
"Dear Mudder and Dad,
Here's hoping this is my last Christmas away from you. The 20 francs (enclosed) are for a souvenir. That's about all it's good for.
Bill"  [2]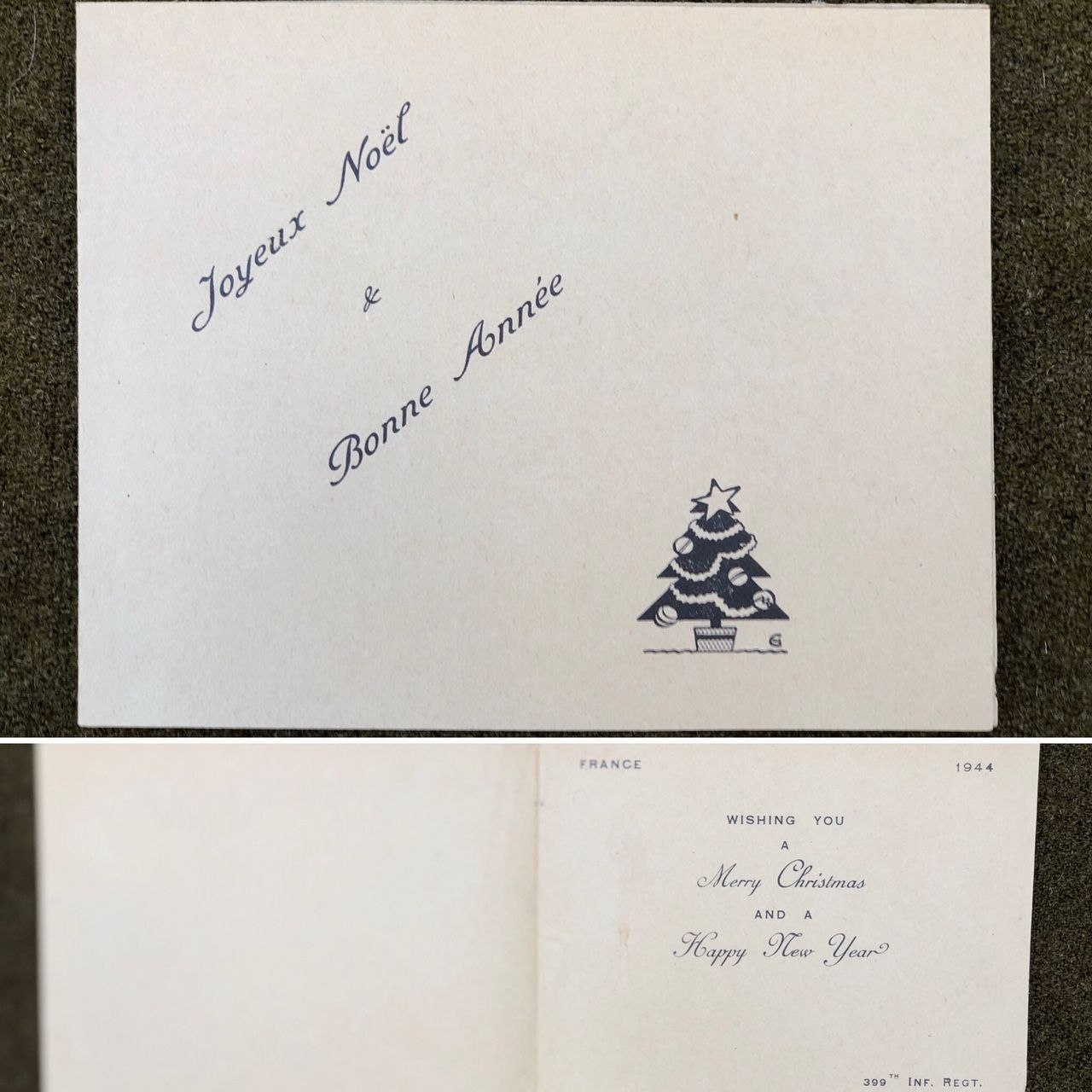 Another soldier in Taylor's regiment, Private Leandro Sivieri, wrote "kiss" in several places near the Christmas tree on the front of his card and wrote to his wife in Yeadon, Pennsylvania:
"To my darling wife,
I am sorry that I can't do better this year. But let's hope that next year I'll be beside you. The tree is full of kisses for you and thier [sic] all for you.
Love you always and forever,
Leon"  [3]
During the war many units and commands printed their own holiday cards for servicemen to send to the "folks back home." [4]  For example, in November 1944 the 2nd Infantry Division printed atleast three different styles of Christmas cards, including one with a GI-twist on the poem "'Twas the Night Before Christmas":
" 'Twas the night before Christmas

Somewhere near Aachen
We hang up our stocking
And if you want to know why

It isn't because
We expect Santa Claus
We just hung it up there to dry"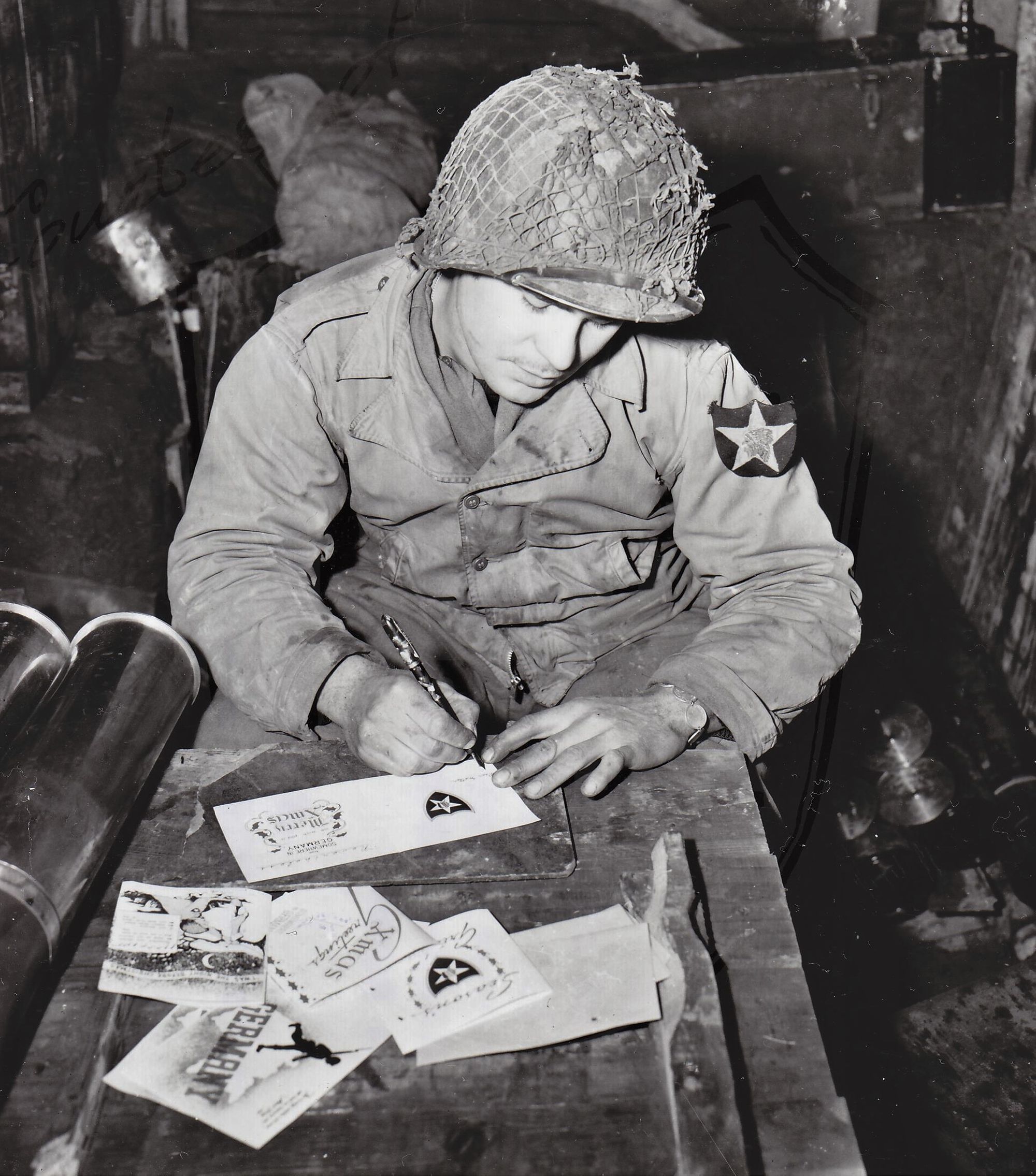 Several examples of cards printed by different infantry divisions in the European and Mediterranean Theaters of Operations in 1944 are shown below.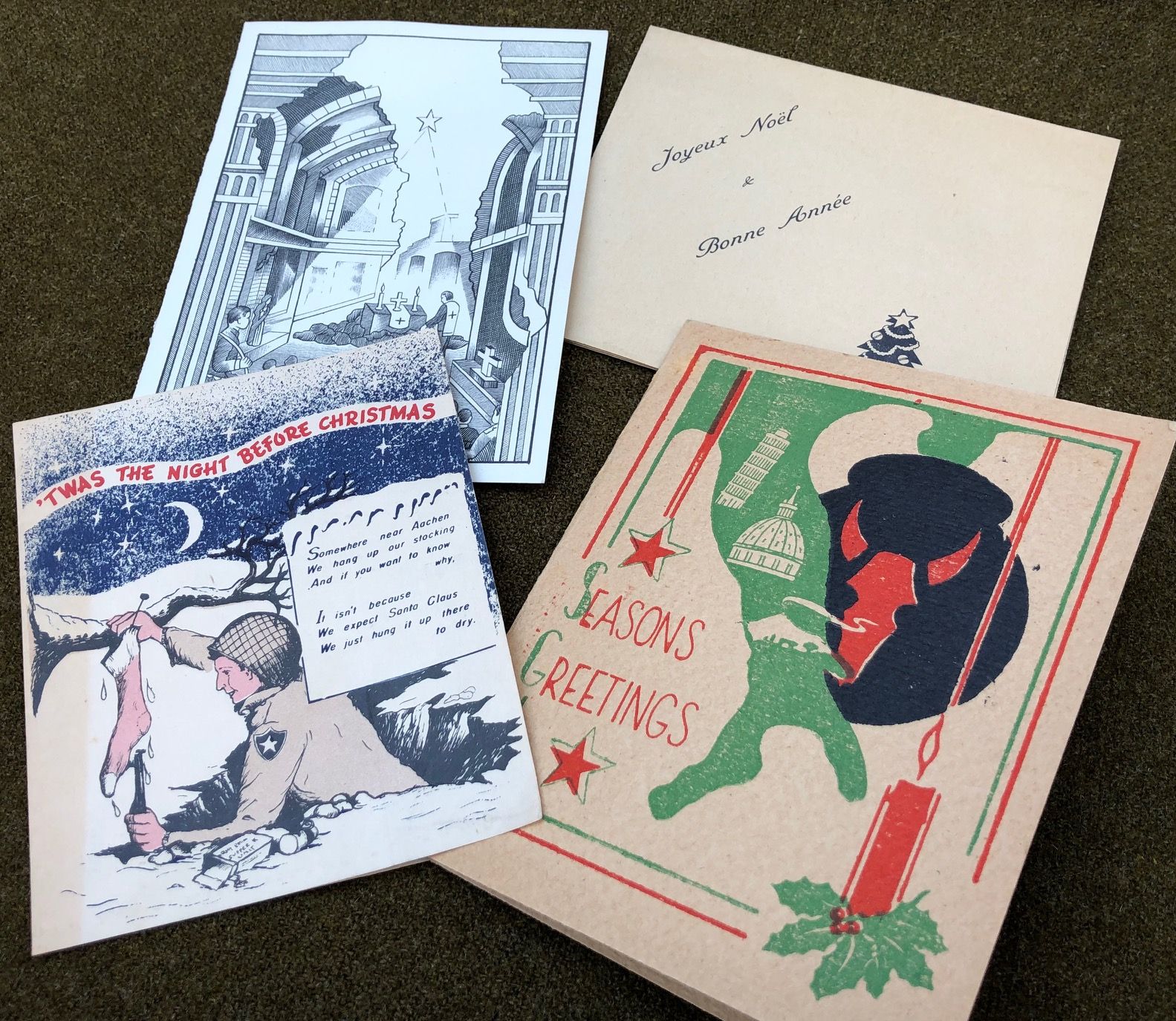 In addition to cards locally procured or printed by individual units, in the European Theater of Operations ("ETO") there were several designs printed and sold by the Army Quartermaster and Army Exchange Service.
The majority of those designs were created by French artists, Lucien Hector Jonas and Louis Ferrand. [5]  Jonas was a well-known artist who designed a number of French bank notes before the war, including the 20 franc that William Taylor enclosed in his Christmas card. Louis Ferrand was a commercial artist and a member of the faculty at the School of Fine Arts in Nantes, France. [6] A member of the Quartermaster, a woman only identified as Miss Engel, contributed a design as well. [7] By late November 1944 the Army had approximately 7 million of these cards available for sale to troops in the ETO. [8]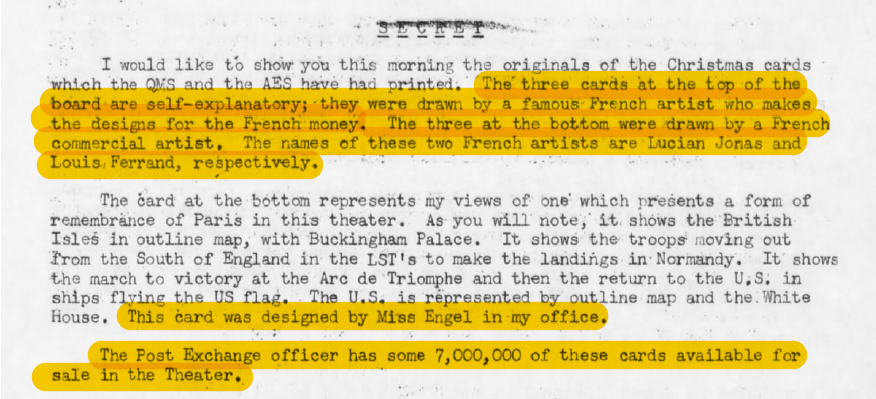 Original examples of the ETO Christmas cards are below. The top row are the three designs created by Louis Ferrand, the bottom row shows two of the cards by Lucian Jonas (left and middle), and the card created Miss Engel, of the Army Quartermaster, (right). [9]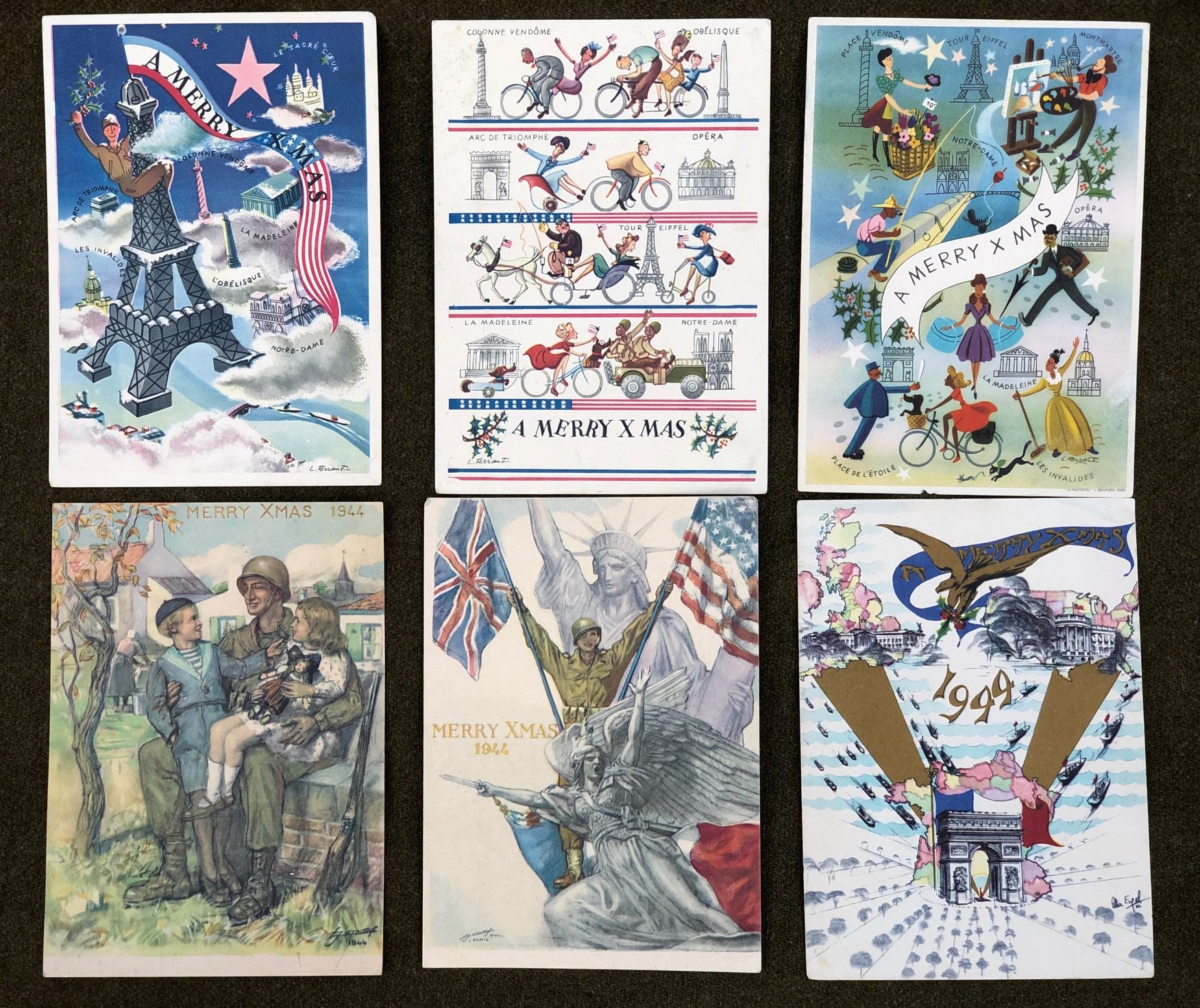 While there is no specific data on how many, and what types, of these cards were distributed to certain units within the ETO, a soldier in the 100th Infantry Division sent one of the cards designed by Louis Ferrand to his parents in Concord, New Hampshire before he was wounded and evacuated from the front lines on January 1, 1945.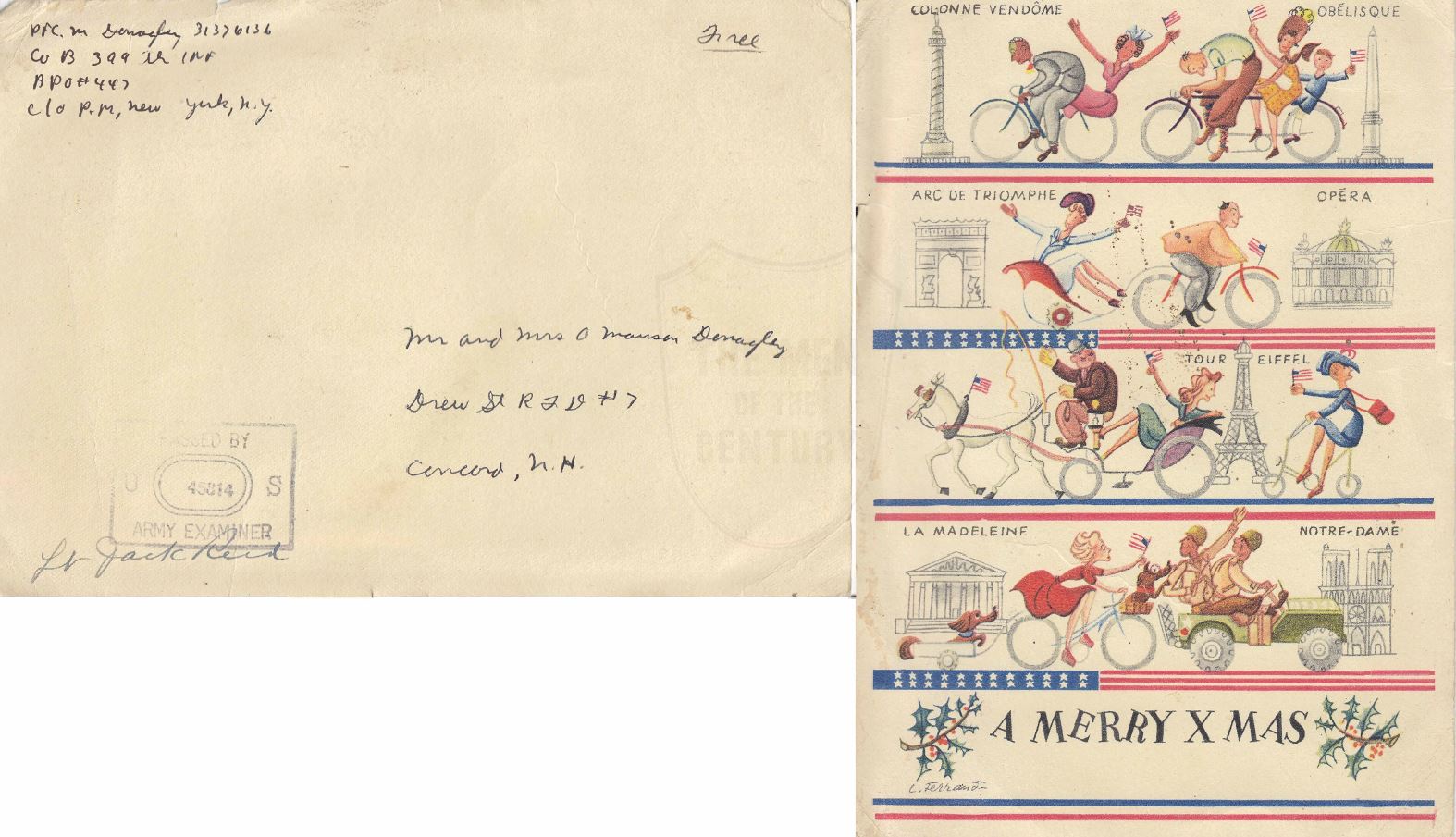 Wartime holiday cards are more than just interesting collectibles. They demonstrate the breadth of items supplied by the Army, and how in the midst of aggressively combating Axis forces the American high command and even individual units sought to provide soldiers with seemingly trivial, but greatly appreciated, items.
---
Footnotes
[1] Greg Taylor, "The World War II Letters of William Wellington Taylor, Jr." Letter 158 - December 12, 1944. Accessed December 24, 2019, https://wwiiwwtaylor.wordpress.com/letters/december-1944/
[2] Greg Taylor, "The World War II Letters of William Wellington Taylor, Jr." Letter 157 - December 1, 1944. Accessed December 24, 2019, https://wwiiwwtaylor.wordpress.com/letters/december-1944/
[3] Leandro Sivieri letter, undated. Author's collection.
[4] For example, in December 1944 the 88th Infantry Division in Italy managed to produce approximately 40,000 Christmas cards printed on V-Mail forms for its personnel. James C. Fry, Combat Soldier, (Washington, D.C.: The National Press, Inc., 1968), 237.
[5] "Lucien Hector Jonas Biography," The Annex Galleries, accessed December 24, 2019, https://www.annexgalleries.com/artists/biography/1157/Jonas/Lucien
[6] "Louis Ferrand (painter)," Wikipedia, accessed December 24, 2019, https://fr.wikipedia.org/wiki/Louis_Ferrand_(peintre)
[7] "European Theater of Operations Command and Staff Conference," Fold3, November 24, 1944, accessed December 24, 2019, https://www.fold3.com/image/287447008
[8] Ibid.
[9] Ibid. The notes from the Command and Staff Conference clearly refer to seven different designs (Jonas and Ferrand designing three each, and Miss Engel one), however, the author has only identified six. The final design created by Mr. Jonas proving to be the most elusive.