---
In early 2011 I visited the National Archives and Records Administration in College Park, Maryland, (NARA II) to find photos of the 100th Infantry Division, the unit my grandfather served in during the Second World War.  NARA II houses the records of the U.S. Army's Signal Corps, and its collection of wartime images and film reels.
One of the photographs I scanned showed three soldiers, all of B Company, 399th Infantry Regiment, 100th Infantry Division, around their foxhole near Bitche, France, on December 24, 1944.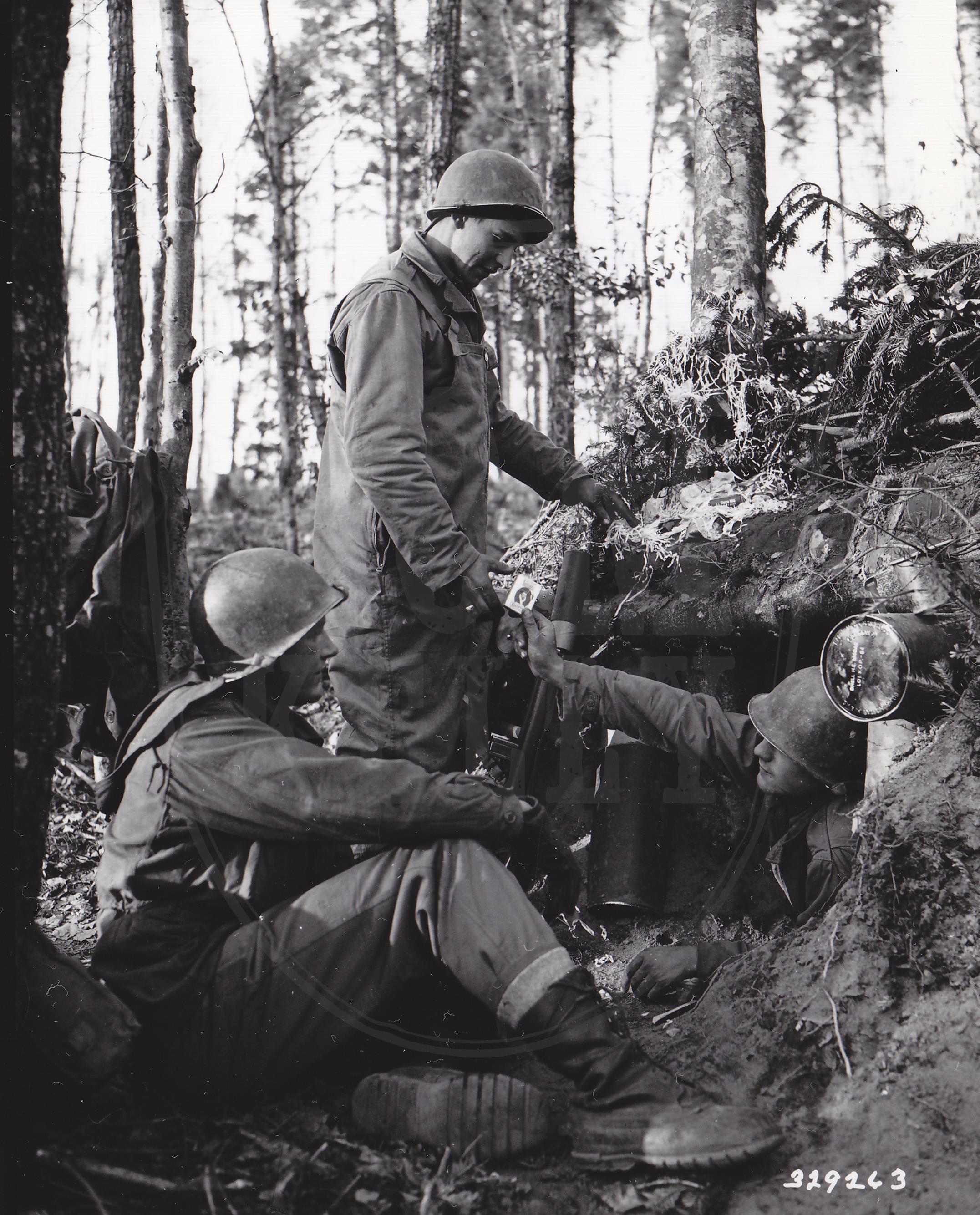 The official caption listed the full names of each soldier, and using a directory of veterans of 100th Division soldiers I had obtained from the 100th Division Association (the division's veterans' association), I was able to locate one of the men in the photograph, Raymond Shaw Howarth of Salt Lake City, Utah. I was pleasantly surprised to see that Mr. Howarth had an email address listed in his contact information, and so I sent him a short message attaching the photo I had copied.
Mr./Sgt. Howarth,

My name is Tom Kelly, I  am a progeny of a 100th Division soldier and a law student. I have been extensively researching the 100th Division at the National Archives, and I found a picture of you.

Please let me know if this caption is incorrect- but you are identified in it.

If you would like to contact me I can be reached by phone at . . .

Sincerely,
Tom Kelly
Less than twelve hours later I received a reply.
Dear Tom.
Wow, what a surprise!!!. This photo was taken 66 years ago, I was 20 years old at the time, and my 87th birthday is this Sunday. This is a wonderful birthday present. Thank you.
Yes, that's me in the middle, Alvin is on the right in the dugout, and Harold is sitting on the left. We were all transferred to Fort Bragg and the 100th Division in late March 1944. We were assigned to the 60mm mortar section in B company, and we became experts . . .
The date of this photo is Christmas eve 1944. We had arrived in the foothills above Bitche [France] on 16 Dec. '44 and were immediately ordered into defensive positions, because the Battle of the Bulge in the Ardennes had begun, and most of our support was sent north to Belgium to contain the German breakthrough. At 11:30 PM, 31 Dec '44, the Germans in our area launched operation Nordwind. Our lines held, but a Recon outfit on our right flank was pushed back almost 5 miles to Lemberg, and by morning of 1 Jan. '45, the Germans were swinging in behind us. I was wounded in a massive American artillery barrage and had to be left behind and became a POW. I turned 21 years old in Heppenheim Stalag XIIA.
I was liberated on 27 Mar. '45 and spent the next months in Army General Hospitals in Paris, outskirts of Paris, Marseilles, Staten Island, Letterman in San Francisco, Dibble in Menlo Park California, and Camp Carson, Convalescent Hospital in Colorado, where I was discharged on 10 Nov. '45.
I don't remember this photo being taken. It was a fitting place to put a pack of cigarettes, because none of us smoked. Alvin and Harold were more than Infantry buddies, they were my brothers, and oh how I loved them.
Thank you, thank you, thank you.
Ray    [1]
After this initial e-mail exchange Mr. Howarth and I spoke several times on the phone. He told me that his two buddies in the photograph, Alvin Webb and Harold Hass both survived the war. He also sent me a CD containing his wartime memoirs and a video of him discussing his service with his family. I was proud to include Mr. Howarth's account of his mortar squad's proficiency at the battle of Lemberg in an article I wrote for World War II Quarterly (available here).
In his memoir Mr. Howarth said of his two buddies in the Signal Corps photograph, "I can't say enough about the bravery and courage of Alvin Webb and Harold Hass. We had been together ever since we arrived at Fort Benning, Georgia for our basic training. I knew I could depend on these two men to do the right thing." [2] This kinship and special bond was one of Mr. Howarth's most poignant memories of the war, and something he was reminded of when he began recording his memories of the war. It was a feeling so profound that he struggled to find the words to explain it:
As I sit here writing this history, my thoughts naturally dwell upon the men I fought with and my eyes fill with tears, because I loved them as brothers. They were more close to me than any brother could possibly be, because we had shared life threatening experiences together, and we became one in spirit and thought. . . It is not possible to describe the closeness one feels for men such as these, because that closeness is forged with the bonds of combat and the constant fear and concern for their safety. And when they die on you, the loss is so terrible, because it is as if a part of you has been torn away, and it is even worse, because you are not even allowed to stop and grieve. You have to leave them and trust that some stranger will find them. That is why the tears are in my eyes, because I can now stop and take the time to grieve. . . There is really no way I can express the love I had and still have for these men. It is a love, which surpasses the love you have for your family, because these men became your family in circumstances, where you placed your total trust in each and every one of them. I became a member of their family, because they knew they could trust me to do the right thing at the proper time. I am so sorry for the men, who died, but I am also very proud of them, because they died trying to help the rest of us. I still see them lying on the ground as the battles raged around them, and tears involuntarily come to my eyes.  [3]
It was not until 1997, 52 years after he left the Army, that Mr. Howarth sought treatment for the Post-Traumatic Stress Disorder (PTSD) brought on by his combat experiences and brutal imprisonment at the infamous "Horror Hospital" in Heppenheim, Germany. Through treatment he was able to control his anger and aided other veterans struggling with PTSD. [4]
The greatest gift Mr. Howarth gave me was putting me in touch with another B Company veteran, Manson Donaghey, who was the unit's de facto historian and publisher of 53 issues the company's post-war newsletter. Mr. Donaghey has been the single greatest source of information on not only B Company, but the entire 1st Battalion of the 399th Infantry Regiment.
It is fascinating, and a testament to the skill and professionalism of the Signal Corps photographers, that information from the caption of a photograph taken in 1944 would eventually lead me to one of the men pictured, and my greatest source of research information.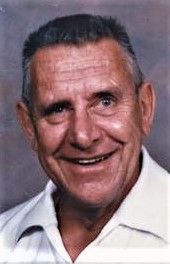 Mr. Howarth passed away on April 9, 2013 at the age of 89. [5]  I will always be grateful to him for his service and sacrifice, and for sharing his story with me.
---
Footnotes
[1] E-mail from Raymond Howarth, February 26, 2011.
[2] Raymond S. Howarth, Privately printed memoir, 16.
[3] Ibid., 15-16, 33.
[4] "Raymond Shaw Howarth," Legacy.com, accessed January 25, 2020, https://www.legacy.com/obituaries/deseretnews/obituary.aspx?n=raymond-shaw-howarth&pid=164162215.
[5] Ibid.